Read Time:
4 Minute, 1 Second
Des frappes de missiles se produisent «dans tout le pays»
Infowars.com – 7 JANVIER 2020165 Commentaires
MISE À JOUR: Le Pentagone a déployé 6 bombardiers B-52 sur la base aérienne Diego Garcia dans l'océan Indien à la suite de rapports faisant état de frappes iraniennes sur des bases militaires irakiennes.
JAN 06: USAF B-52Hs MYTEE51 & 52 departed Barksdale AFB for Diego Garcia in the Indian Ocean due to #Iran tensions.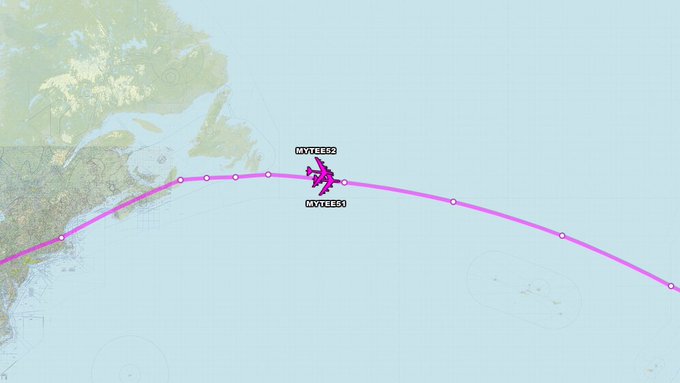 4201:05 AM – Jan 7, 2020Twitter Ads info and privacy294 people are talking about this
Plus à ce sujet au fur et à mesure de son développement… Histoire originale ci-dessous…
---
Des vidéos circulant sur les médias sociaux prétendent montrer que l'Iran lance des missiles balistiques sur une base militaire en Irak, qui, selon de nombreuses personnes, abrite des militaires américains.

Israel Breaking@IsraelBreaking
BREAKING VIDEO: Suspected Iranian originating rockets seen being launched toward military base housing US forces in Iraq moments ago.54312:15 AM – Jan 8, 2020Twitter Ads info and privacy615 people are talking about this

VIDEO: Footage allegedly shows the moment a missile fired from Iran strikes the Ayn al Asad base used by US forces in Iraq.1,1231:14 AM – Jan 8, 2020Twitter Ads info and privacy955 people are talking about this
Une déclaration du ministère de la Défense a accusé mardi le régime iranien.
Vers 17 h 30 (HNE) le 7 janvier, l'Iran a lancé plus d'une douzaine de missiles balistiques contre l'armée américaine et les forces de la coalition en Irak. Il est clair que ces missiles ont été lancés depuis l'Iran et visaient au moins deux bases militaires irakiennes hébergeant des militaires américains et du personnel de la coalition à Al-Assad et Irbil.

Nous travaillons sur les évaluations initiales des dégâts de combat.

Ces derniers jours et en réponse aux menaces et aux actions iraniennes, le ministère de la Défense a pris toutes les mesures appropriées pour protéger notre personnel et nos partenaires. Ces bases sont en état d'alerte élevé en raison d'indices selon lesquels le régime iranien prévoyait d'attaquer nos forces et nos intérêts dans la région.

Alors que nous évaluons la situation et notre réponse, nous prendrons toutes les mesures nécessaires pour protéger et défendre le personnel, les partenaires et les alliés des États-Unis dans la région.

En raison de la nature dynamique de la situation, nous continuerons à fournir des mises à jour dès qu'elles seront disponibles.
Des informations provenant de Fox News ont affirmé que des missiles avaient touché plusieurs endroits en Irak mercredi matin, avec des «dizaines» de missiles frappant près de la base aérienne d'Al Assad, que Trump a visités en décembre 2018. Une base à Erbil aurait également été touchée, selon ABC News .
Regardez: ALEX JONES DÉCLARE LA DERNIÈRE GRÈVE MISSILE IRANIENNE SUR LES BASES DE L'IRAK * EN DIRECT *
De Fox News :
La source a déclaré à Jennifer Griffin de Fox News: «Sous l'attaque de missiles de l'Iran. Il s'agit de missiles de croisière ou de missiles balistiques à courte portée. Partout dans le pays. »Les missiles ont frappé près de la base aérienne d'Al Assad à Anbar, entre autres. Il n'y avait aucun mot immédiat sur les blessures ou les dommages.
La télévision d'État iranienne a rapporté que les Gardiens de la révolution iraniens avaient pris la responsabilité de l'attaque.
Eva J. Koulouriotis – إيفا كولوريوتي@evacool_Replying to @evacool_
#BREAKING #NOW
Iranian state television confirms that the missile attack on the American base of Al-Assad in central Iraq was carried out by the Iranian Revolutionary Guard and that it is the first response to the assassination of #Soleimani.#Iran #USA #IRGC #Trump1612:33 AM – Jan 8, 2020Twitter Ads info and privacy26 people are talking about this
Une photo prétendait montrer un lancement de missile.
Mahdi Bakhtiari@Mahdiibakhtiari

فوري///بسم الله الرحمن الرحيم
آغاز انتقام
شلیک موشک‌های بالستیک ایرانی به سمت پایگاه عین‌الاسد در عراق که محل استقرار نیروهای آمریکایی است، می‌دهند.#كرمانشاه #قاسم_سليماني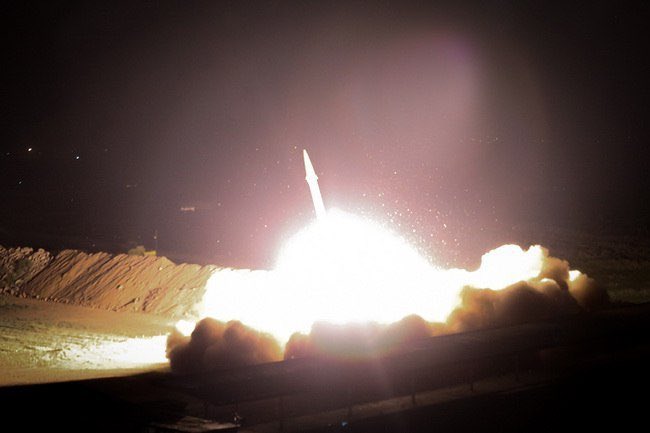 80211:56 PM – Jan 7, 2020 · Islamic Republic of IranTwitter Ads info and privacy356 people are talking about this
La secrétaire de presse de la Maison-Blanche, Stephanie Grisham, a confirmé que le président Donald Trump était au courant et surveillait la situation.
We are aware of the reports of attacks on US facilities in Iraq. The President has been briefed and is monitoring the situation closely and consulting with his national security team.31.8K12:49 AM – Jan 8, 2020Twitter Ads info and privacy13K people are talking about this
Ces frappes interviennent dans le sillage d'une frappe américaine sur un aéroport de Bagdad qui a tué le chef de l'élite Quds Force Qasem Soleimani.
Plus d'informations sur ce qui se développe…
---